When I plan my trips, I always think why do we need to travel? Well, sitting at home like a couch potato on weekends and watching Netflix all day long also sounds like a plan to me. Isn't it? But NO! A wanderer will disagree with me. So, this time I ticked off another destination from my list. And it was none other than Rishikesh – The Yoga Land of India. There is no doubt that for the people who want to get a quick escape from the daily hustle-bustle of office life, these cities in the vicinity of Delhi are a complete savior, and spending 3 days in Rishikesh became a complete bliss for us and I have curated this Rishikesh travel guide which will help you find the best time here.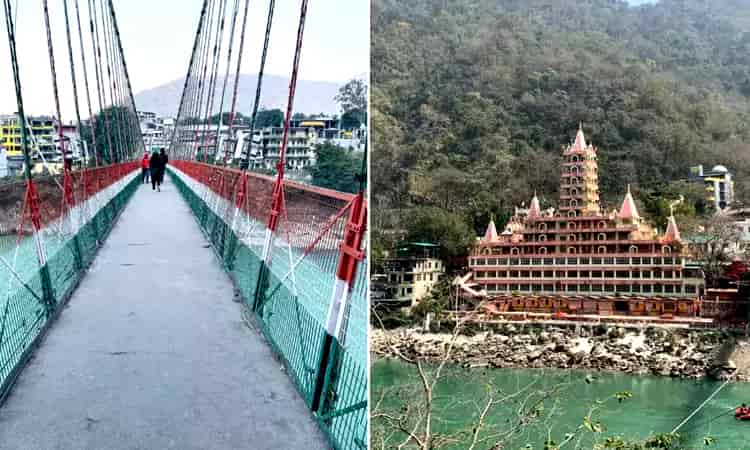 So I started my trip on Thursday night and reached early in the morning on the next day. It's a 5-hour journey from Delhi, but there was quite a rush due to the weekends approaching and it took us almost 6-7 hours to reach there. Just in case you're also planning a quick weekend trip before the winter arrives then Rishikesh might be a great place to visit. Here I will be sharing all about my 3 days' experience there along with other information like where to stay, what to eat, and where to visit.
Be patient and get along with me to explore this vibrant city and its narrow lanes which has a wide array of experiences hidden within them.
How to Reach Rishikesh
We took a bus as it was the most convenient option for us according to the last-minute plan. But there are some other ways too if you want to know about how to reach Rishikesh from Delhi.
By Train: If you're planning to travel by train, then you must know that Rishikesh doesn't have a railway station. The nearest railway station connecting the city is the Haridwar station which is around a 40-minute drive by car and if you take a Tuk-Tuk it might take around an hour. This is quite a cheaper option for budget backpackers as one can get lucky to grab a ticket at less than INR 200.
By Bus: As I already shared we travelled by bus from Delhi to Rishikesh. It was a 6-hour journey and the bus stand was on the little outskirts of the main town. The bus ticket can range between INR 700-1000 per person depending on the type of bus. Buses run from Delhi at short intervals and it is quite an easy option for last-minute travellers.
By Air: It might not be a very good idea to travel by air if you're traveling from any corner of the city. But it can be an option considerable for the people who are traveling from abroad. The nearest airport from Rishikesh is the Dehradun airport which is located at a distance of 25Kms.
Where to Stay in Rishikesh
Well, to my surprise there are so many beautiful accommodations and many fancy hostels in Rishikesh to pick no matter if you're a budget backpacker or want a luxurious retreat. Our home for these 3 days was the Blue Jay Hostel. Located in the Tapovan area which is close to the Laxman Jhula, it was just the perfect pick for us. From the well-maintained rooms to the friendly staff, this place made us feel like home. And alongside that, it was quite budget-friendly too. They have 4-bed and 6-bed dorms and private deluxe rooms which are well-equipped with all the basic amenities and apart from that the best part was it was extraordinarily clean. There was also a common room where we rested for a while as our bus came very early and we didn't get an early check-in. They made sure that we were comfortable enough after the hectic journey and managed to provide us with the room before the check-in time. This was the perfect place for us to spend 3 days in Rishikesh in the most relaxing way.
Our Ratings: 4.7/5
Tariff: INR 1, 080 per night (For Standard Double Room), INR 1, 440 per night (Deluxe Double Room)
Other Places to Stay in Rishikesh: Alongside this, there are many hotels in Rishikesh near Laxman Jhula which will keep you close to the market and the famous spots in the city.
Luxury Accommodation
Kunwar Residency
Vedas Tapovan
Hotel Neeraj Bhawan
Aloha On The Ganges Rishikesh
Budget Accommodation
Hotel Bloom
Live Free Hostel
Things to Do in Rishikesh
These are some of the best experiences that one cannot miss while they are planning to stay for 3 days in Rishikesh.
See the Magnificent Laxman Jhula
The first and foremost attraction to see at Rishikesh is the beautiful and gigantic Laxman Jhula, in which an iron suspension bridge is hanging over the Ganges flowing beneath. This is one of the iconic landmarks of the city, which has unfortunately been closed after almost 90 years as it has become quite weak and risky to cross the river. We were quite lucky to walk over the bridge for the last time, as in June it was still open to the public. And the view from the bridge is just incredible and cannot be missed.
Visit the Trayambakeshwar Temple
Located just opposite the banks of the River Ganges, Trayambakeshwar Temple is a 13-storey temple that has grandeur. People who want to see the evening Aarti can go there around 6:30 pm and watch the entire activity of the holy evening Aarti. We wanted to capture the beautiful sunset and the entire view of the Laxman Jhula from this temple. And after climbing so many steps, it was indeed a treat to the eyes.
Witness the Ruins of Beatles Ashram
Oh! It's not the first time I went to Rishikesh, but this time it was different. We went to the Beatles Ashram riding a scooter. Trust me it was the fun I can't express in words. The Beatles Ashram is famous for being the place where the band "Beatles" stayed during their visit to India. Though the name is enough, this place is in ruins. I was scared to see the distorted buildings and the walls adorned with graffiti. The feeling was just like walking inside a haunted house, but this a must-visit place in Rishikesh.
Watch the Ganga Aarti
A vacation in Rishikesh is incomplete without watching the divine Ganga Aarti sitting at the Ghat. Just as the sun starts setting on the horizon, every Ghat in the city starts their preparation for the grand Aarti. It has its beauty and just by sitting and listening to chants, your soul will calm down. During the Aarti, there was nothing but just the serenity which filled the air. Some of the famous Ghats in Rishikesh are Parmarth Niketan and Triveni Ghat where one can witness the best Ganga Aarti.
Enjoy the Calmness at Triveni Ghat in Rishikesh
This place has its importance as this is the place where three tributaries of the Ganga meet. After a hectic day exploring the attractions, we sat by the Ganga Ghat and immersed ourselves in the divine sound of the bells and chants sung by the pandits there. The Ghat was the perfect place for us to rest and relax our minds after a hectic day.
Where to Eat in Rishikesh
Cafe De Goa
This was a cute little cafe which is located just opposite the Trayambakeshwar temple. It might be a bit difficult to find out, but its fancy interiors will draw your attention to this cafe. This was the first place where we went to have a quick breakfast. There is no doubt that the place is amazing to sit and enjoy the view, but alongside that, the food was also good.
Ratings: 4.5/5
Must-Try: Cheese Omelette and Pasta
Little Buddha Café
Another good one to the food journey was Little Buddha Cafe which again has an amazing view of the Ganges. This is one of the best cafes in Rishikesh which serves the delicious platter of momos and French fries. And with the trance music playing in the background, it just felt like the perfect place to chill and enjoy the view.
Ratings: 4.5/5
Must-Try: Momos, French Fries
60's Beatles Café
Oh! I was very excited to visit the legendary 60's Beatles Cafe. Before going to Rishikesh, I had heard a lot about their famous pasta and of course the rustic interiors. Thus it was a must-visit place for me while I was there. It was quite difficult to find the cafe in the first place, but the struggle was all worth it. With the charming interiors and the river view, this is one of the best Rishikesh cafes which one cannot miss.
Ratings: 5/5
Must-Try: Vegan dishes like Lasagne, Arrabiata Pasta
Budget Layout for 3 Days in Rishikesh
Transportation: 1,400 approx. by VOLVO Bus
Food: 1,500 approx.
Accommodation: 1,500-2,000 approx.
Note: This is a rough layout and you can always save money by finding out the budget alternatives.
Tips To Know Before Visiting Rishikesh
Book your accommodation beforehand to avoid any last-minute hassle
Avoid visiting during the peak season due to heavy crowd
If you're a couple or going with friends then rent a scooter to explore the city. It's quite cheap.
During the Aarti, stay alert as pickpocketing is quite common.
Rest you know that the city will give you that lost peace back!
It's not the first time I went to Rishikesh, but indeed it was quite an experience. I felt like rediscovering this quaint city of Uttarakhand in a completely different way. Right from the food to the attractions, there was a touch of something which cannot be experienced until you see them from your own eyes.
And who said that you have to take a leave from work or college? Because I see a weekend already coming.
So guys, if you want a quick and cheap break from the Delhi pollution then pack your bags and rest you know what to do. I hope this guide for spending 3 days in Rishikesh guide will be of some help to you while jotting down the plan.