The climate and topography of Kashmir supports the large-scale production of a wide variety of fruits. Succulent, juicy fruits grown here are globally famous. The fruit diversity of this wonderful valley calls for the export of Kashmiri fruits to the international markets. In the domestic market too, Kashmiri fruits are high in demand.
Fruits of Kashmir are cultivated all year round. However, certain fruits grown here are seasonal in nature and can be found and relished only in certain specific seasons of the year. Another distinct attribute of fruit cultivation in Kashmir is that any one particular fruit may be available in multiple varieties, differing in taste and color too.
The fruit orchards of Kashmir are a popular tourist attraction. Fresh, juicy fruits hanging from branches of trees is indeed a memorable sight to behold…photo fanatics enjoy clicking photos of these Kashmiri fruits in the midst of a lush, green backdrop. The cultivators of Kashmir grow these fruits in an organic soil and take utmost care of their fruit crops. The pristine, unspoiled environment of the ethereal valley fosters the cultivation of unique fruits, rich in taste, texture & color. Here are the top 10 coveted fruits of Kashmir that enjoy name and fame worldwide:
List of Fruits of Kashmir
1. Apple
Of the many things that the state of Jammu & Kashmir is famous for, Apples are one. Kashmiri apples are rich in quality and enjoy a high demand both in the domestic as well as international markets. As a tourist to Kashmir, your experiences of the tour will remain incomplete if you haven't visited one of those tempting apple orchards of Kashmir and tasted the typical grainy textured, exceptionally juicy, and richly colored Apples grown in the region. This superior quality temperate fruit is called Tsoonth locally. It comes in numerous varieties such as Razaakvaari, Hazratbali, Maharaji, Chamura, Ambri, Delicious, Kulu, American Trail, and Golden. Apple production from Kashmir accounts for nearly 75% of the total production of apples from India.
2. Strawberry
Nearly 2000-2500 metric tonnes of strawberries come from Kashmir each year. More than half of the fruit growers of Kashmir are engaged in strawberry cultivation. Gussu, a village located in Kashmir's outskirts enjoys a reputation as the 'Strawberry Village' of Kashmir. Many acres of land in the Gussu village are given to strawberry cultivation. Gussu village stands out as the first and foremost one to yield strawberries in the state. Strawberries are chiefly grown as a cash crop in Kashmir. The cool, salubrious weather of the valleys supports the cultivation of this exotic fruit. A box full of strawberries will cost between Rs. 50 to Rs. 150 in the local markets.
3. Musk Melon
Muskmelon locally referred to as 'Kharbooja' is grown in many parts of Kashmir. This is especially a summer fruit in Kashmir. So, when the temperatures start soaring in the valley around April-May, crops of Muskmelon are cultivated in large numbers. The delightful and distinctive aroma of this fruit which is basically of Persian origin attracts many. In Kashmir, a vast array of authentic desserts is prepared from the freshly harvested muskmelons. Muskmelon Halwa, Muskmelon Milkshake, Muskmelon Pudding, Muskmelon Lassi, and Barfis made out of grounded muskmelon seeds are some of those. Locals also use muskmelon pulp, seeds, and dried-out rind to treat various ailments like menstrual cramps, indigestion, and weak vision.
4. Cherry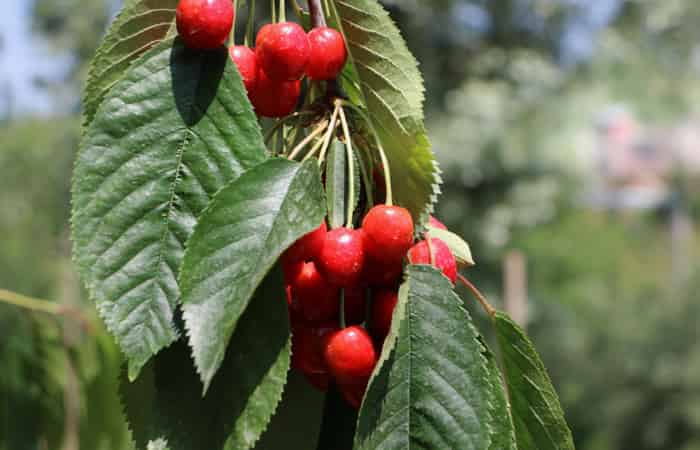 Kashmir is known for producing a wide variety of cherries. On an average cherries amounting to nearly 15, 000 metric tonnes are grown in Kashmir each year. Cherry orchards of Kashmir cover an area of over 2700 hectares. Therefore, a major portion of the country's total cherry production comes from Kashmir. The local name for cherries in Kashmir is 'Gilaas'. Eight distinct varieties of this irresistible, reddish, succulent, nutrients-rich fruit are grown in Kashmir. The names of those eight varieties are as follows: Bulgaria, Awal Number, Italy, Steel Double, Double Class, Mishri, Makmal, and Gogaj Makmal. Srinagar, Sopian, and Baramulla in Kashmir are the chief cherry-growing regions.
5. Mulberry
Mulberry is a kind of wild fruit grown generously in the vales of Kashmir. Locally Mulberry is referred to as Tuell. The fruit of Mulberry available in the state differs in quality, taste, and size when compared to the supply coming from the other parts of India. The Kashmiri mulberries are much larger, sweeter, and more delicious. Numerous varieties of Mulberry are grown all across the valley. Some of the notable mulberry varieties include Botatul, Rokokuyaso, Kanva, Shahtul, Kokuso, Zagtul, Chatatul, Chinese White, Robesh Sernal, Gosherami, Brentul Kashmir, and Ichinose. The agro-climatic environment of Kashmir supports mulberry cultivation in the state. Locals value mulberry not only for its taste as a fruit but also for its medicinal properties. Mulberry leaves too are used to make germs-killing concoctions.
6. Pears
The valley of Kashmir is one of the largest producers of pears in the whole of the world. In almost every district of Jammu and Kashmir, there are orchards growing this nutritive fruit in large numbers. The majority of Kashmiri pears comes from the district of Budgam. After apples, pears are the second most popular fruit grown in Kashmir. In almost every local market of Kashmir, you can find pears of the best quality. Pears are locally called Tung. The two most notable varieties of pears grown in Kashmir include Babugosha and Naak.
7. Pomegranates
Pomegranates grown in Kashmir are of much better quality when compared to the pomegranates coming from the rest of India. Flavorful, tough-skinned fruits with ruby-red bead-like seeds are a specialty indeed. Also, the fruits grown here are devoid of the typical acidic taste that pomegranates are known for. When you are at Kashmir, don't forget to lay your hands on the pomegranates sold in the local markets. It is definitely worth a try!
8. Centros Plum
In the higher altitudes of Kashmir, Centros Plums are grown in large numbers. Srinagar's Rawalpora features many stunning plum orchards. Machuwa comes next to Rawalpora in terms of the plum cultivation in Kashmir. Centros Plums of Kashmir are fleshy, delicious, and sweet in taste. The rich reddish color of these fruits is utterly tempting. Other districts of Kashmir too boast of their plum orchards. Nearly 1500 hectares are given to plum cultivation in the valley of Kashmir. Apart from the Centrose plum, the other varieties grown in the valley include Chogandhra and the Silver plum.
9. Peach
Peach, a kind of stone fruit, is grown in abundance in the temperate regions of Kashmir. The juicy succulent pulpy peaches grown in the state are of a sweeter variety. In the local Kashmiri language Peach is referred to as Tse'nunn. Peaches grown in Kashmir are harvested around the months of July-August. Peach cultivation makes a vital part of the state's horticulture industry. Also, peach cultivation supports the state economically.
10. Apricot
Apricots grown in Kashmir are rich in taste and flavor. Locally apricots are referred to as Tser. In Kargil, Leh, and Ladakh Apricot cultivation is one of the major cultivations. Harvesting of the fruit crop is done manually in the month of August. The Kashmiri apricots are small in size, have a velvety exterior skin, are orange-hued. The pulp of the fruit is sweet and smooth but not juicy. Dried apricots have a high demand in the global markets. It is locally called Khubani. The sun-dried apricots are known for their taste as well as medicinal properties.