The journey from Dwarka to Somnath is a significant pilgrimage route in western India. Both Dwarka and Somnath are renowned for their historical and religious importance. Apart from being a center for pilgrimage in Gujarat, Somnath is a popular tourist spot that can be reached through a comprehensive road network as well as through a range of other modes of transportation. The easiest way however, you can travel from Dwarka to Somnath is by road as there are several taxis, cabs, and car rental services available that seamlessly connect these two places.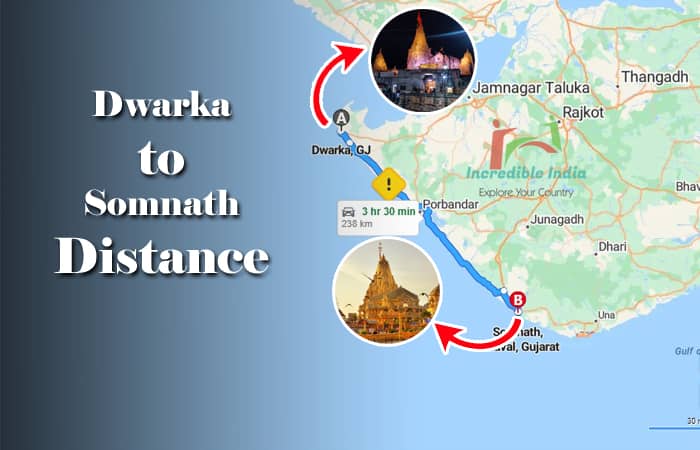 The history of the town of Dwarka is legendary as it states that it was Lord Krishna who came to the banks of the Gomti River and set up the kingdom of Dwarka after leaving Mathura. Somnath too has special significance among Hindu devotees with places like the Panch Pandav Gufa, the Somnath Mahadev Mandir, and the Triveni Sangam where many also go for a holy dip. In this article, we will explore the distance between Dwarka and Somnath, the various modes of transportation available, and the significance of this sacred journey.
Dwarka to Somnath Distance
The distance between Dwarka and Somnath is approximately 235 kilometers by road. The aerial distance from Dwarka to Somnath is about 211 kilometers. While Dwarka is famous for being an ancient kingdom in history, Somnath is known for the Somnath Temple which is one of the twelve Jyotirlingas in the country.
Here is a quick look at the distance between the two locations:
Dwarka to Somnath Distance by Sea: 272 km (5 hours, 26 minutes Approx.)
Dwarka to Somnath Distance by Bus: 239 km (3 hours 57 minutes Approx.)
Dwarka to Somnath Distance by Taxi: 240 km (4 hours 21 minutes Approx.)
Dwarka to Somnath Distance by Train: 412 km (8 hours 44 minutes Approx.)
How to Travel From Dwarka to Somnath
By Car
The most common and convenient mode is by road. The route connects these two important pilgrimage destinations and offers a scenic drive through the beautiful landscape of Gujarat.
By road, the journey from Dwarka to Somnath takes approximately 4 to 5 hours. The road is well-maintained and offers a comfortable travel experience for pilgrims and tourists alike. Along the way, you can enjoy the picturesque views of Gujarat's countryside, dotted with villages, farmlands, and occasional glimpses of the Arabian Sea.
By Bus
If you wish to use robust public transportation, you can opt for one of the several buses that are run by the Gujarat State Road Transport Corporation (GSRTC). This is the cheapest mode of commuting and you will find that there are many options available from Dwarka to Porbandar and then from Porbandar to Somnath. These buses offer regular daily services, providing an affordable and convenient option for pilgrims and travelers. It takes about 8 to 9 hours to reach Somnath from Dwarka by bus.
By Taxi/Cab
Yet another option you can pick is to hire a private taxi or cab. This is a preferred mode by many visitors as it gives you the liberty to explore the route at your own pace. You can pick from a list of several taxi services that are available in Dwarka.
By Train
If you prefer a combination of road and rail travel, go for a train service from Dwarka to Somnath. However, it is important to note that there is no direct train connectivity between the two cities. The town of Veraval lies around 6 kilometers away and is the nearest railway station. From Dwarka, you can take a train to Jamnagar or Okha, and then proceed to Somnath by road or you can take a train to Veraval and then cover the remaining distance by rickshaw or any other local transport.
What Is The Significance Of The Two Locations?
While the distance between Dwarka and Somnath can be covered by road, the journey holds immense religious significance for devotees. Dwarka is believed to be the place where Lord Krishna established his kingdom, and it is considered one of the Char Dham (four sacred abodes) in Hindu mythology. The Dwarkadhish Temple is the main attraction in Dwarka and is visited by thousands of devotees.
Somnath is known for the Somnath Temple, which holds great religious significance in the Hindu faith. It is often referred to as the "Eternal Shrine." The temple, after being destroyed by foreign invasions has been rebuilt and today, it stands as a symbol of faith and resilience.
There are also some great stops along the way that you can stop by including:
Bhadkeshwar Mahadev Temple: This serene Shiva temple sits on a peninsula jutting into the ocean and is extremely popular for its sunset views.
Shree Dwarkadhish Temple: This is a landmark Hindu temple dedicated to Lord Krishna that is also known for its elaborate tiered main shrine which dates back to 400 BC.
Shri Krishna Mandir, Tulamandir, Gomti Ghat, Dwarka: This riverside Hindu temple is where worshippers come to bathe as a sign of religious significance or float diya candles on the water. You can also take a local boat and visit Bet Dwarka, and the Old Temple of Krishna.
Sudama Setu: This Bridge offers a breathtaking view of the temple from a distance. Along with a spiritual experience, you also get a chance to visit the Gujarat coastline as a part of your overall tour plan.
Gopi Talav Theertham: This is counted among the significant places in the Hindu religion as it is believed that this is where the Gopis of Vrindavan met Lord Krishna for the last time before he set off for Dwarka.
Shri Nageshvar Jyotirling: This massive temple honors Lord Shiva, one of 12 Jyotirlingas in India.
Mahatma Gandhi's Birth Place (Kirti Mandir): Witness this 3-story home of the famous freedom fighter who was born here in 1869 that has now been converted into a museum showcasing the history of his life.
Sudama Temple, Porbandar: This tranquil spot is dedicated to a devotee of Lord Krishna and is today known for its calm surroundings.
Frequently Asked Questions (FAQs)
Q1. Can I Visit Both Dwarka And Somnath In A Single Trip?
Ans. Yes, it is common for pilgrims and travelers to visit both Dwarka and Somnath during a single trip. The distance makes for a convenient pilgrimage route, and it is considered auspicious to visit both these holy sites in one journey.
Q2. What Is The Best Season To Travel From Dwarka To Somnath?
Ans. The best time to undertake the journey from Dwarka to Somnath is during the autumn-winter months of October through March. During this time, the weather is comfortable and pleasant for outdoor explorations.
The peak summer season is very hot and humid and thus extremely inopportune for outings. During the monsoons also this journey is best avoided as the state is situated on the western edge of the country and the banks of the Arabian Sea making it quite arduous to travel during this time.
Q3. What Should I Keep In Mind While Visiting Dwarka And Somnath?
Ans. While visiting Dwarka and Somnath, it is recommended that visitors keep the local religious sensibilities in mind and dress in a modest fashion. Carry essentials such as water, snacks, and necessary medication.
Q4. Why Undertake The Journey From Dwarka To Somnath?
Ans. The pilgrimage from Dwarka to Somnath is often undertaken by devotees who seek blessings and spiritual solace. It is considered auspicious to visit both these holy sites during a single trip, as it is believed to bring immense religious merit.
Apart from the religious aspect, the journey from Dwarka to Somnath lets you delve deep into the cultural and historical heritage of Gujarat. En route, you can visit places like Porbandar, the birthplace of Mahatma Gandhi, and Junagadh.
Q5. What Kind Of Food Is Famous In Somnath That One Should Seek Out During Their Visit Here For An Authentic Experience?
Ans. There are several delicacies that one should try out during their Somnath visit which include authentic Gujarati foods are Fafda, Sev, Chaas, Ghevar, Malpua, Puran Poli, Khandvi, Khaman, Dhokla, Lassi, among others.
When you undertake the journey between Dwarka and Somnath, you not only cover the distance of around 235 kilometers, but get a chance to soak in the tranquility, divinity, and mythological significance that the entire route has to offer. It is a journey of faith, devotion, and cultural exploration. Whether you choose to travel by road, bus, taxi, or a combination of road and rail, the pilgrimage from Dwarka to Somnath offers a profound and enriching experience for devotees and travelers alike.