Assam, one of the 'seven sister's states of Northeast India', comes with vast expanses of agricultural land under fruit cultivation. The agro-climatic environment in the state encourages the steady growth of fruit crops. The hilly slopes of Assam are used to cultivate a wide range of seasonal fruits. Certain fruits grown in the state are exotic in nature and are grown exclusively in the state. These indigenous fruits of Assam are in demand among the locals inhabiting the region. Fruit growers in the state make use of organic soil to grow their fruit crops. The result is fabulous-you get a robust supply of fresh, juicy, and fleshy fruits straight from the womb of Mother Nature. Get information on the top-rated fruits of Assam…read below:
List of 20 Fruits of Assam
1. Lemon (Nemu)
Lemons are widely grown in Assam. It is called Nemu Tenga in the Assamese language. The fruit finds a use mainly in the culinary beverages of Assam. Harvesting of the full-grown lemons is done around June-July and December-January. These lemons are extremely flavorful and are exported mainly to Dubai and London. The two major varieties of lemons cultivated in Assam include Gol Nemu and Kaji Nemu.
2. Banana (Kol)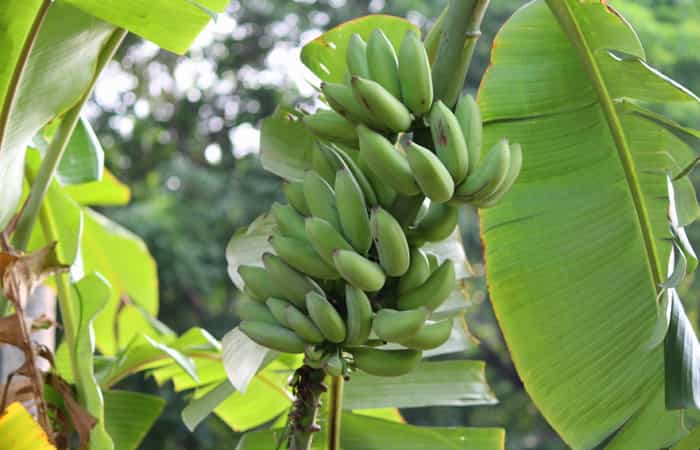 The state of Assam is one of the leading producers of Banana in the country. This popular horticulture crop comes with major socio-cultural significance. The state contributes a share of 2.4% of the net production of bananas in India. The soil type and climatic conditions in the state support the massive growth of the banana crop. The banana varietal crop strength is nearly 15-20. Some of the popular banana varieties cultivated in the state include Malbhog, Jahaji, Saapkal, Bar Jahaji, Chenichampa, Kanaibansi and Garo Moina.
3. Jujube (Bogori)
Indian jujube is grown in Assam abundantly. But most of the production is utilized within the state itself. The local people use the jujube fruit for making chutneys and pickles. For a wide range of health benefits that the fruit has, many natives of the state grow jujube in their gardens.
4. Mouse Melon (Siral)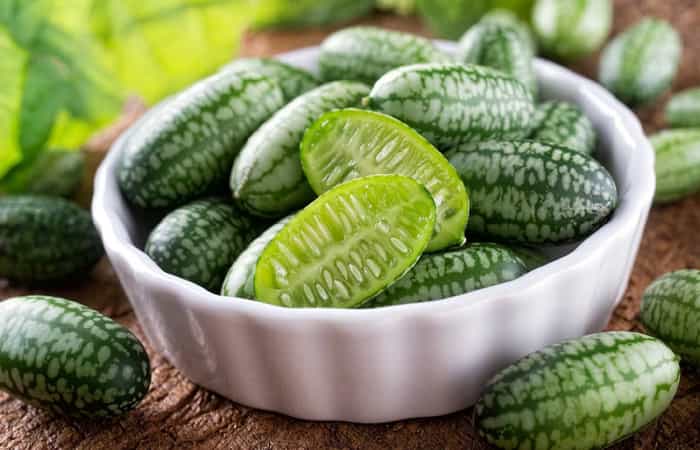 Mouse melons are tiny fruits that resemble cucumbers in look. These fruits have a sour taste. In local Assamese cuisine, mouse melons are widely used. In many regions of Assam, these melons are cultivated. The produce mostly finds a way to the domestic markets.
5. Coconut (Narikol)
Coconut Palm cultivation in Assam plays a vital role in supporting the state's economy. It is a plantation crop in the state. The average and area produce of coconut are 52 nos. and 20340 Ha in the state of Assam. Kamrupa, Assam Tall are the two major varieties cultivated in the state. Dwarf-type coconut trees are grown as ornamental trees in the gardens of many houses in Assam. A major part of the coconut yield from the state is used in Assamese cuisine. Desserts like Narikol Ladoo, Pithas made during the Bihu festival in Assam involve the use of a generous amount of coconut.
6. Star Fruit (Kordoi)
Star fruit locally referred to as a 'Kordoi' is cultivated in many parts of Assam. It is a household staple in many Assamese houses. In domestic markets, a major portion of the produce is sold. Both sweet and sour varieties are cultivated in the state. Kordoi Pitika is a popular Assamese recipe made in many houses.
7. Peach (Ahom Bogori)
Peach is a vital fruit crop grown abundantly in Assam. The low-chilling type of peach is especially grown in the state. Fresh fruits of peach grown in the state are high in quality and come with ample amount of proteins, vitamins, minerals and sugar. In Assam peach is primarily a summer season fruit. Ripened peaches from Assam are cottony soft and highly delicious.
Must Read: Fruits of Kashmir
8. Pineapple (Matikothal)
The pineapples grown in Assam are the sweetest of all varieties found worldwide. According to the latest stats pineapple production in Assam in 2020-21 amounted to 338.98 metric tons. That way Assam came to acquire the second position in terms of pineapple production, thereby contributing to nearly 18.75% in the country's net production. Pineapple from the state has a robust market in the Gulf countries. The Queen Pineapple variety grown in the state is especially famed. The 3 major pineapple-growing regions of Assam are Cachar, NC Hills and Karbi Anglong.
9. Dragon Fruit (Pitaya)
Dragon fruit is an ornamental fruit crop cultivated in many regions of Assam. This fruit crop is a native of South America. However, now it is grown in many parts of India. Northeast Indian states, including Assam, contributes a major share in the country's total production of Dragon fruit.
10. Jackfruit (Kothal)
Assam ranks third in terms of Jackfruit production in the whole of the country. In almost all districts of the state, this tree crop is grown abundantly. Of the total Jackfruit production, 20% is utilized in the state for consumption purpose and the rest 80% is utilized by the food processing sectors of the country. During the years, 2012-2013, 22, 233 hectares of land in the state came under jackfruit cultivation.
11. Orange (Komola)
Oranges are grown abundantly in Assam. The Khasi Mandarin is a prominent variety grown in the state and is much in demand worldwide. There are again different types of Khasi Mandarin oranges found in the state. Dima Hasao and Karbi Anglong regions in Assam's Brahmaputra valley produce Mandarin oranges in large numbers. This major horticulture fruit crop of Assam is produced on a large scale in Assam's Tinsukia district. 1455 hectares of land are under orange cultivation in the district. 16013 kg of oranges is produced per hectare in Tinsukia. About 23300 metric tons of the juicy, luscious fruit is produced in the district of Tinsukia, Assam.
12. Guava (Modhuri)
A fast-growing fruit crop of Assam is Guava. The pinkish variety of Guava is grown in many farms and orchards of Guwahati. Safrior Payere, Madhuri Am and Am Sophri are the three major Guava species cultivated in the state. In the first fifteen years of cultivation, the Guava trees of Assam offer the maximum yield.
13. Wood Apple (Bael)
Bael crop in Assam is grown in many regions. The meat of the fruit of Bael cultivated in Assam is remarkably sweet. Bael Panna prepared from a mix of Yoghurt, bael pulp and chilled water is a popular refreshing summer drink in many Assamese households. Locals value the fruit for its nutritional as well as medicinal properties.
14. Litchi (Lichu)
Assam is known for its massive production of Litchis. This delicious fruit comes in a bright red color, is flavorful and has an extremely juicy pulp. Assam's Tezpur litchis are especially famous worldwide. These litchis have obtained the prestigious GI tag. These litchis come mainly from the well-known Lichu Pukhuri orchard which was opened by the Late Padmanath Gohain Baruah between 1922-24.
15. Mango (Aam)
Mango or 'Aam' as it is referred to in Assamese is grown mainly in the mid-hilly regions and in the sub-tropical plain lands of Assam. Over 56 mango varieties are grown in the state and are absolutely indigenous to the state. Alphonso Mango is a prominent variety grown in the state. These mangoes are grown organically and ripened naturally and in a chemical-free way. 'Bhati' aam and 'Mati' aam of Assam are globally famous and consist of high-quality, pulpy, juicy fruits.
16. Grapes (Angur)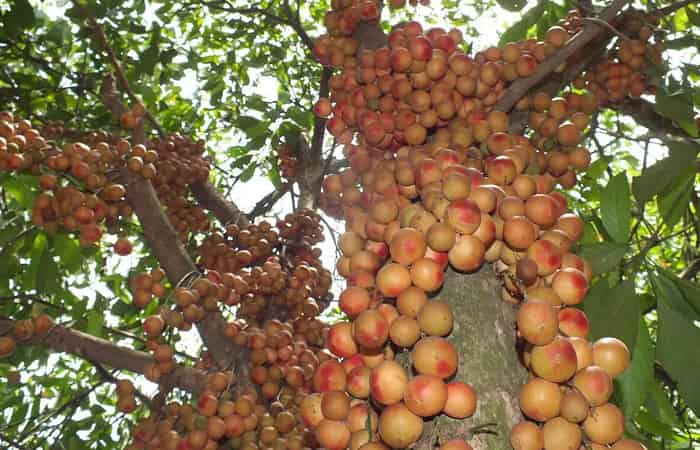 Assam produces exportable high-quality grapes. Red, black and green grapes-all three major types are produced in the state. Locals make unsweetened reddish wine from the grape fruits at home. The Burmese grape variety cultivated in Assam's Darang District is famed globally and is exported mainly to Dubai. Burmese grapes come with a high content of Vitamin C and are called Leteku in the local language.
17. Indian Coffee Plum (Ponial)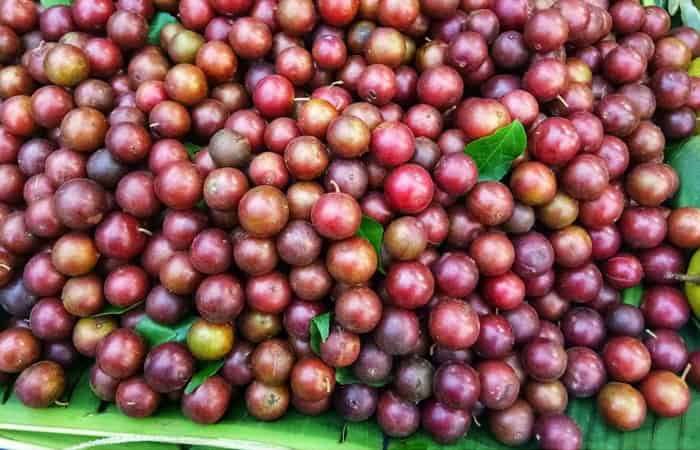 This mildly tangy and pulpy fruit is grown in several regions of Assam. In Assam's Barak Valley, this fruit is grown abundantly. Locals value the fruit for its many health benefits. For curing health issues like diabetes, diarrhea, asthma, and jaundice this fruit is especially helpful.
18. Indian Olive (Jolphai)
Indian Olive is a sour fruit grown in many parts of Assam. The nutritional as well as the economic value of this fruit is immense. Locals harvest this fruit and use it for making delicious chutneys. Many eat the fruit raw with a dash of sugar or salt.
19. Sugarcane (Kuhiyar)
The state of Assam has 28, 000 hectares well suited for the cultivation of sugarcane. Districts of Golaghat, Dima Hasao, Karbi-Anglong, Nagaon, and Sonitpur are the key sugarcane-growing districts in the state. Multiple varieties of sugarcane are cultivated in the state and it makes an important cash crop in Assam. A major portion of sugarcane produced in Assam is used for jiggery production while the rest is used during the summer months for extracting fresh sugarcane juice.
20. Hog Plum (Amora)
Hog plum, a small greenish fruit known as 'amora' in the local language is grown in many of the hilly slopes of Assam. Also, it is found in the gardens of many Assamese houses. The fruit has a market countrywide and is used largely in Assamese cuisine.