India is dotted with many such places where you can experience spirituality in its most supreme form. Varanasi, a city of Uttar Pradesh set along the banks of River Ganges is one such place.
Religion, traditions, art and architecture combine together to give the city its unique character. For a devout Hindu, visiting Varanasi at least once in a lifetime is like a dream come true. It is believed that the one who has visited Varanasi is sure to attain 'Moksha' and thus, get freed from the cycle of birth and rebirth. This ancient frenetic city mirrors the above conviction in the most profound ways.
A maze of meandering alleys and a flight of giant stairways leading down to the holy Ganges captures the true essence of this holy city. If you are planning for a visit to Varanasi or Benaras, as it was earlier called, here comes a list of some of the most notable destinations of Varanasi which you shouldn't at all miss…read on:
20 Best Places to Visit in Varanasi
1. Shri Kashi Vishwanath Temple
Kashi Vishwanath Temple of Varanasi is a prominent religious destination. Lord Shiva is the deity enshrined here and is known by the names of Vishweshwaraiah or Vishwanath, meaning 'lord of this universe'. For Hindus, this is an extremely holy place and you'll find huge crowds queuing up at the temple's entrance every day. The temple tower features splendid gold plating. 800 Kg of pure gold has been used to plate the tower. The lingam of Lord Shiva at the temple rises to a height of 60 centimeters and is mounted on a silver altar. Devotees visit the temple to touch the lingam and wash away their sins. This is one of the 12 Jyotirlingams of Lord Shiva that our country has.
Address: Lahori Tola, Varanasi, Uttar Pradesh 221001
Timing: 4am-11pm
Function: Hindu Temple
Deity: Vishveshwar or Vishwanath (Shiva)
Completed: 1780
2. Shri Durga Mandir
The Durga Temple of Varanasi stands on the famed Durga Ghat along the banks of the River Ganges. Goddess Durga, a manifestation of feminine divinity, is the deity here. This temple dates back to the 18th century. Maharani of Bengal is said to have taken the initiative of constructing this temple. The temple features Nagara architectural style and is painted red. Several monkeys throng the temple each day. That's why the temple is also called the 'Monkey Temple'.
Address: 27, Durgakund Rd, Durgakund, Anandbagh, Bhelupur, Varanasi, Uttar Pradesh 221005
Timing: 5am-10pm
Architectural style: Hindu temple architecture
District: Varanasi
Deity: Durga
3. Hanuman Temple
Madan Mohan Malviya Ji, a famous freedom fighter had constructed the Hanuman Temple around the 1900s. The temple stands along the banks of River Assi. Lord Hanuman is the main deity enshrined here. Idol of Lord Rama too can be found in the temple. Laddoos are offered to the deity as Prasad and locals make sure to take these Laddoos home as a blessing from the Lord. The temple premises are thronged by monkeys who may steal your belongings and Prasad if you are a little inattentive.
Address: Sankat Mochan Rd, Padampuri Colony, Jawahar Nagar Colony, Bhelupur, Varanasi, Uttar Pradesh 221010
Timing: 4-11:30am, 3-11pm
Architectural style: Hindu architecture
Deity: Hanuman, Rama
4. Nepali Temple
Nepali Temple built around the 19th century by the ruler of Nepal has Lord Shiva as its deity. The temple resembles Nepal's Pashupatinath Temple in its look. The use of stone, wood carvings and terracotta adds uniqueness to the temple's architecture. The temple features a Pagoda architectural style. The sculptures adorning the walls of the temple bear a semblance to the sculptures on the walls of the famous Khajuraho Temples. This explains why the Nepali temple is also often referred to as 'Mini Khajuraho'.
Address: near Lalita Ghat, Lahori Tola, Varanasi, Uttar Pradesh 221001
Timing: Open 24 hours
Architectural style: Pagoda
Creator: Rana Bahadur Shah
Opened: 1843
5. Tulsi Manas Temple
This temple belongs to Lord Rama. It was built in 1964. The temple got its name from Tulsi Das, the well-known saint poet. The temple boasts of the Shikhara architectural style and has its walls covered with various inscriptions from the famed religious text, Ram Charit Manas. Tulsi Das is said to have composed the Ram Charit Manas sitting right at this place.
Address: 72P2+R5V, Sankat Mochan Rd दुर्गाकुंड मार्ग Near Jalan, Varanasi, 221005
District: Varanasi
Deity: Rama
6. Vishwanath Gali
This iconic, bustling alley close to the Kashi Vishwanath Temple is a shopper's paradise. It comes with multiple shops and stalls selling a vast range of commodities. From sweets and local snacks to brass idols, from apparels to household and home décor goods, you'll find everything here. All items sold at the shops of Vishwanath Gali are affordably priced.
7. Ramnagar Fort
Ramnagar Fort dates back to the 18th century. It is about 14kms away from the city center. The Fort is constructed out of sandstone. A museum housed in the fort exhibits a vast array of archaeological treasures such as bejeweled sedan chairs, antique weapons, vintage automobiles and exotic hookahs. Also, a gem in the collection exhibited here is a unique 150-year-old astronomical clock.
Address: Varanasi Rd, Ram nagar, Ramnagar, Uttar Pradesh 221008
Timing: 9:30am-5:30pm
Opened: 1750
Materials: chunar sandstone
8. Alamgir Mosque
This mosque was built by the Mughal Sultan, Aurangzeb in the 17th century. Aurangzeb is said to have destroyed a Lord Shiva Temple at this spot to set up this mosque. Indo-Islamic architectural style consisting of high domes and mighty minarets makes this mosque look utterly stunning.
Address: Panchganga Ghat, Ghasi Tola, Varanasi, Uttar Pradesh 221001
Affiliation: Islam
Founder: Aurangzeb
Ecclesiastical or organizational status: Functional
9. Chunar Fort
Chunar Fort standing on the rocky banks of the River Ganges dates back to the 11th century. The aesthetic beauty of this fort draws tourists from far and wide. In 'Gangs of Wasseypur', a famed Bollywood movie this fort had been featured.
Address: 4VFG+87X, Tammanpatti, Uttar Pradesh 231304
Timing: 8am-5pm
Built: Eleventh century and improvements in sixteenth century
Height: 280 feet (85 m)
Controlled by: Archaeological Survey of India Ministry of Tourism
10. Bharat Mata Mandir
This temple belongs to Mother India. This is the first of its kinds in the whole of the country. You'll not find any idol of the deity in this temple. However, a relief Indian map carved out of marble is present in this temple. In the year 1936, freedom fighter, Babu Shiv Prasad Gupta initiated the construction of this temple. The temple was inaugurated by Father of the Nation, Mahatma Gandhi.
Address: Vidyapeeth Road, Cannt Road Lalapura, Chanuwasatti Chandua Chittupur, Guru Nanak Nagar Colony, Chetganj, Varanasi, Uttar Pradesh 221001
Timing: 7:30am-5:30pm
District: Varanasi
Deity: Bharat Mata
11. Banaras Hindu University
This iconic academic institution is one of the largest residential institutions in the whole of the world. More than 30, 000 students study here. The sprawling lawns and attractive Indo-Gothic style buildings within the campus of the Banaras Hindu University (BHU) are admired by all. The area covered by the campus of the University stretches to 5.3 square kilometers. In 1916 this University was set up by Madan Mohan Malviya.
Address: Ajagara, Varanasi, Uttar Pradesh 221005
Timing: Open 24 hours
12. Ruchika Art Gallery
Ruchika Art Gallery, owned by Ruchika Mehrotra is located just off the Ravindrapuri Road in Varanasi. The shop features a vibrant collection of paintings that aptly showcase the true essence of Varanasi. So, visit the Gallery to take home a souvenir for your friends and family…
13. Dhamek Stupa
The 1500-years old Dhamek Stupa is a brilliant testament to Buddhist influence in the state. This massive structure rising to a height of 43.6 meters and having a diameter of 28 meters is located in the Sarnath Village, 12 km away from Varanasi. Lord Buddha is said to have delivered his first sermon here. Beautiful images of flowers, birds and people are engraved on the walls of the stupa, thereby making it look very attractive.
Located in: Archaeological Buddhist Remains of Sarnath
Address: 92JF+9R6, Dharmapala Rd, Singhpur, Sarnath, Varanasi, Uttar Pradesh 221007
Timing: 6am-5pm
Opened: 500 AD
Height: 43 m
Affiliation: Buddhism Wikimedia Foundation
Style: Buddhist, Gupta
Status: Preserved
Materials: white makrana marble
14. Dashashwamedh Ghat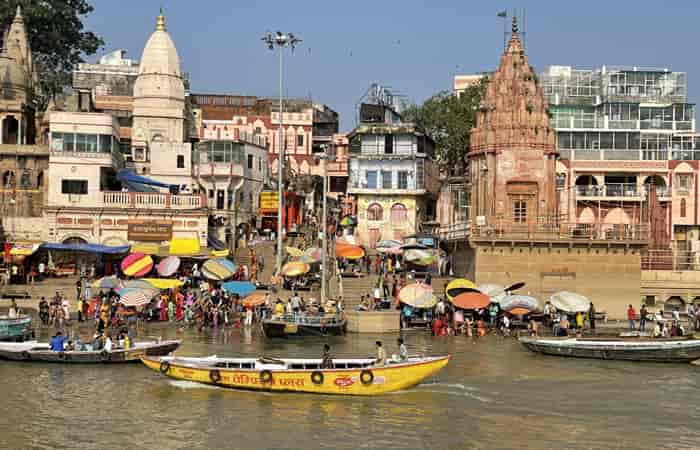 This Ghat comes with immense religious significance. According to legends, Lord Brahma had performed the famous Dasa Ashwamedha Yagya here. Fire-fueled, ritualistic Ganga Aarti ceremonies undertaken every evening at the Dasaswamedh Ghat draws huge crowds from far and wide.
Address: Dashashwamedh Ghat Rd, Ghats of Varanasi, Godowlia, Varanasi, Uttar Pradesh 221001
Timing: Open 24 hours
District: Varanasi, Kashi region
15. Manikarnika Ghat
The ancient Ghat has many legendary tales associated with it. It is believed that Goddess Sati had entered the flames at this very place. Also, this Ghat is believed to have been the place of birth of the dauntless Jhansi queen, Rani Lakshmi Bai. Funeral pyres keep burning here all the time. This Ghat is considered very auspicious for performing the last rites of deceased ancestors.
Address: near Lalita Ghat, Ghats of Varanasi, Lahori Tola, Varanasi, Uttar Pradesh 221001
Timing: Open 24 hours
16. Batuk Bhairav Mandir
Tantriks and Aghoris worship at this temple. Batuk Bhairav is the deity here. The deity is just another manifestation of Lord Shiva. One noteworthy feature of this temple is the Akhand Jyoti, a flame that is burning ceaselessly for many ages. The oil used in this lamp is believed to have immense healing powers.
Address: Rathyatra Kamachha Rd, near Kashirag Apartment, Maharana Pratap Colony, Gurubagh, Bhelupur, Varanasi, Uttar Pradesh 221010
Timing: 5:30am-12pm, 4pm-12am
17. Bharat Kala Bhavan Museum
This is an art and archaeological museum exhibiting a brilliant collection of pottery, paintings, artifacts, jewelry, textiles, sculptures, etc. Every item exhibited here belongs to the time period between the 1st century and the 15th century. There are more than 100, 000 exhibits at display here. Also, there are some rare manuscripts of great historical value. If history fascinates you, you must visit this place.
Located in: Banaras Hindu University
Address: Banaras Hindu University, Semi Circle Road No. 3 Opp Institute of Mgmt Studies, Varanasi, Uttar Pradesh 221005
Founded: 1 January 1920
Founder: Pandit Madan Mohan Malaviya
Collection size: 104,376
18. Tibetan Temple
Built-in the Tibetan architectural style, the Tibetan temple is a place worth visiting indeed. It is believed that Lord Buddha had come here to teach his followers about the four truths pertaining to life. A wonderful idol of Shakyamuni and the prayer wheels you get to see here are chief attractions at the temple.
Address: 92GG+VH9, Sarnath, Varanasi, Uttar Pradesh 221007
Timing: Open 24 hours
19. Gyan Vapi Well
This famous well can be found within the premise of the Kashi Vishwanath shrine. The water of this well is believed to be extremely holy. It is further believed that by drinking the water from this well, one can gain in wisdom. A story associated with this well is that when the temple of Lord Vishwanath was attacked by Mughal ruler Aurangzeb, the priest of the temple threw the lingam of Shiva into the well and later jumped into it.
Address: 31-24, Gyanvapi Main Road, Lahori Tola, Gyanvapi, Uttar Pradesh 221001
Number of minarets: 2
Dome(s): 3
20. Fun City
This is a popular fun destination of Varanasi. It is a water park that remains thickly crowded at the weekends. Giant swings and roller coasters present here to attract people of all age groups. A food joint present in the park satiates your hungry tummy once you have taken a break from indulging in the watery fun. Kids enjoy to their heart's content at the Fun City.
Address: Sona Talab, Pandeypur Panchkoshi Road, In Front of St. Mary Convent School Daniyalpur, Varanasi, Uttar Pradesh 221007
Timing: 11am-5pm